Are you tired of struggling with complex coding and complicated web design? Have you ever wished for a tool that could make website creation more accessible, faster, and more efficient? If so, then Divi WordPress Page Builder: The Ultimate Theme & Visual Creator answers your prayers.
This powerful visual builder gives users complete control over their websites—allowing them to create exactly what they want without relying on costly developers or long hours of trial-and-error programming. With its intuitive drag-and-drop interface and ready-made templates, Divi makes it easy for anyone to build unique, professional-looking sites in no time.
Divi is revolutionizing the way people think about website building. Users no longer have to sacrifice quality for speed when creating their sites; with Divi's innovative features like responsive editing, global styling options, custom CSS controls, and much more, endless possibilities are available. So if you're ready to start taking control of your site development process and getting results fast, this article will show you everything you need to know about Divi WordPress Page Builder!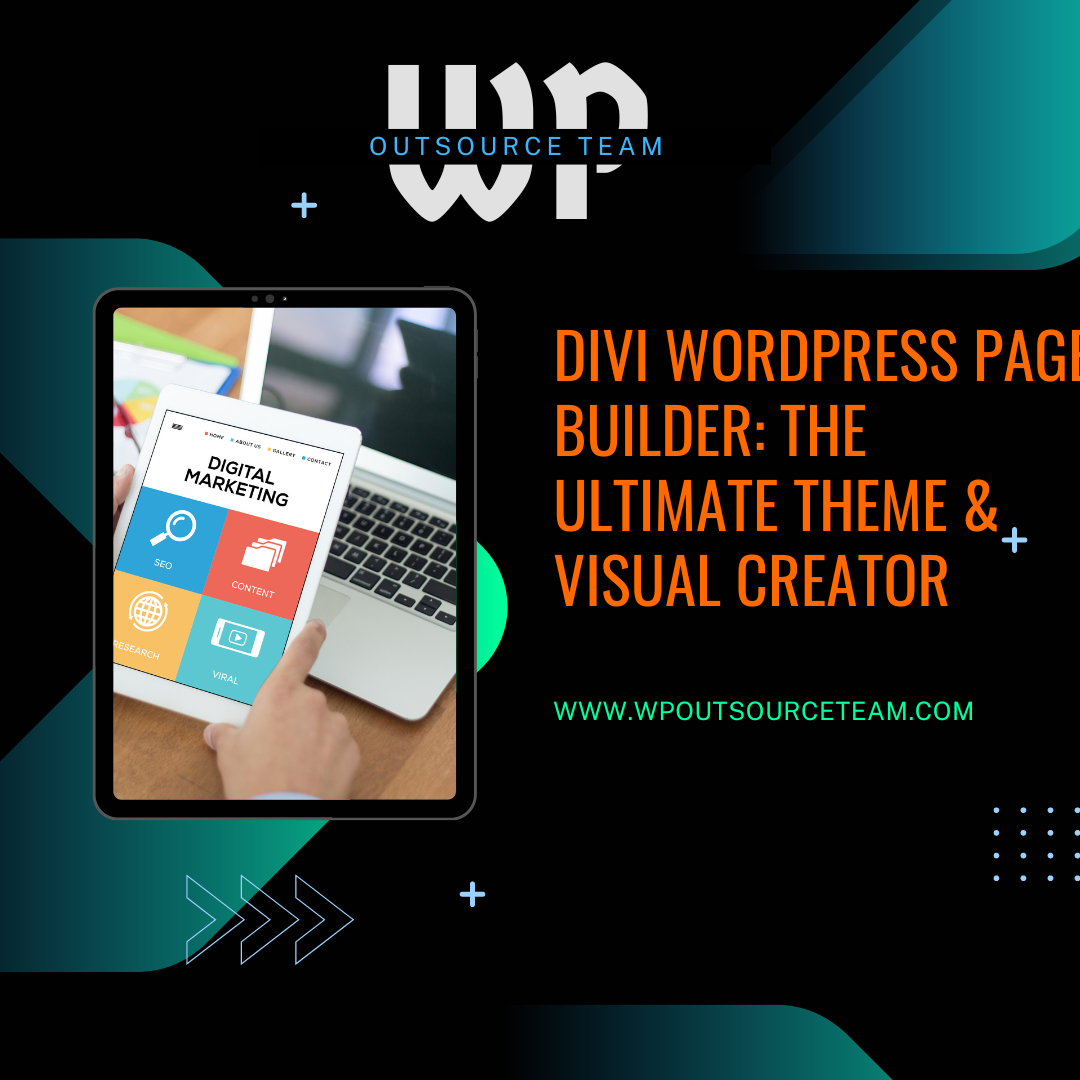 Table of Contents
Overview Of Divi Builder
Divi is a WordPress page builder and theme that has revolutionized how people create content online. It's an all-in-one package for building beautiful, modern websites with ease. With its visual builder and library of layouts, Divi makes creating stunning pages quickly – no coding required! Whether you're just starting in web design or are a seasoned pro, Divi gives you the freedom to make your vision come alive.
The Divi Builder functions like a powerful drag-and-drop editor. You can quickly add modules such as text boxes, images, videos, etc., customize their appearance with simple point-and-click styling tools, and arrange them into any layout imaginable. The Divi Library also provides premade templates that save time when creating new designs. All of this combines to give users unprecedented control over how they present their content on the web — without having to write code or hire developers.
What sets Divi apart from other WordPress themes is its sheer flexibility and power; it allows anyone to build sophisticated sites with minimal effort while giving experienced designers plenty of room to play around with complex layouts and customizations. With Divi, there's something for everyone looking to take their website design game up a notch. And now, onto what makes Divi unique.
What Makes Divi Unique
Divi WordPress Page Builder is a revolutionary theme and visual creator from Elegant Themes. This builder plugin has changed how we use WordPress themes by giving us complete control over our website design. It offers users the ability to create stunning websites with ease.
The Divi Builder Plugin allows you to create any type of web page layout imaginable without having to write a single line of code. You can drag-and-drop elements in place, add content blocks and customize your site with just a few clicks. With this powerful tool at your disposal, there's no limit to what you can create.
What sets Divi apart from other WordPress builders is the comprehensive features that make it easy for anyone to build unique sites quickly and easily. From customizing colors and fonts to adding animations, galleries, forms, and more – Divi makes building beautiful sites simpler than ever.
This unique combination of power, usability, and customization options makes Divi the ideal choice for anyone looking to take their website game up a notch or two. But if you want total control over how your website looks, Divi might be perfect for you!
Ideal Users For Divi Builder Plugin
Divi Builder is a powerful WordPress page builder plugin, and the Divi theme is one of its primary components. By incorporating both into your website development project, you can combine all the elements necessary for success. Who are the ideal users for this unique combination?
Those who want a visually stunning site with lots of customization options. With Divi Builder, you can access a library full of eye-catching design elements that will make your website stand out.
Beginners who need an easy way to create professional-looking websites without having to learn complex coding skills. The drag-and-drop interface makes it simple to build beautiful sites in no time at all.
Developers or designers looking for an efficient way to generate custom pages quickly and easily using pre-made templates or their designs. Allowing them to focus on creating unique solutions instead of worrying about technical details.
Business owners who don't have time or money wasted in getting bogged down by complicated web-building tasks. Thanks to the Divi Builder review, they know it's possible to create attractive yet fully functional websites with just a few clicks of the mouse button!
From novice bloggers to experienced web developers, Divi theme makes it simple for anyone interested in creating great websites fast and efficiently – while still providing plenty of room for creative expression! With so many features packed into the elegant themes membership package, there's something here for everyone – regardless of experience level or budget constraints. And thanks to its user-friendly setup process and intuitive design tools, even those new to wordpress page builders will find themselves up and running in no time flat!
The cost of working with such versatile software should also be considered when deciding whether this platform is right for you.
Cost Of The Divi Theme And Builder
Divi is an excellent WordPress website builder and theme. It comes with a unique visual page-building feature called the Divi Builder Plugin. Using this plugin, you can create custom page layouts for any existing page on your WordPress site. The cost of using the Divi Theme and Divi Builder is very reasonable compared to other popular themes and plugins in the market.
The basic license for using the Divi Theme and its associated features costs only $89 annually. This includes access to all their updates and support from their team of experts. You also get unlimited downloads of additional Divi modules compatible with the Divi Builder Plugin. On top of this, you will have access to dozens of premade designs that make creating stunning websites quickly!
With this package, you get free updates and customer service forever! Those who want more control over their web design process can opt for the lifetime plan, which gives them full access to all current and future versions of the software at a one-time fee of $249. Plus, there's no limit on how many sites you can use it on – so it's ideal if you own multiple WordPress websites or manage client projects.
With these pricing options available, anyone looking to build beautiful pages quickly should seriously consider trying Divi! Moving forward, let's take a look at some visual examples…
Visual Builder Examples
The Divi Builder interface is an intuitive visual editor that allows users to craft stunning websites quickly and easily. With its user-friendly drag-and-drop interface, Divi builder makes building a website more accessible than ever. Here are some of the advantages the Divi Builder gives you:
Elements Library – The Divi builder elements library contains over fifty content modules that allow users to create beautiful layouts in no time.
Responsive Design – Divi is responsive from desktop to tablet sizes, so your designs will look great regardless of device size or orientation.
Customization Options – With the powerful theme customizer, you can adjust settings for fonts, colors, backgrounds, and more with just a few clicks.
Drag & Drop Builder – The drag and drop builder makes it easy to move around sections of a page and rearrange them until they're perfect for your design vision!
Divi's powerful page builder comes with plenty of features that make creating unique sites faster and easier than ever. Its simple yet robust set of tools provides users with limitless possibilities—whether they're newbies starting their very first site or experienced developers looking to add a personal touch to their projects!
Features Of The Page Theme Builder
Divi is the ultimate WordPress page builder. It's an all-in-one solution for creating themes and plugins that help users efficiently customize their sites. Divi Builder has various features to make web design faster, easier, and more comprehensive than ever before.
The theme builder feature allows you to quickly create custom themes from scratch or using premade layouts, so no coding knowledge is necessary. You can also use it to modify existing themes and plugins easily. With the drag-and-drop interface, you have complete control over your site's layout with simple clicks and moves. Plus, you can preview changes instantly on a desktop, tablet, or mobile device as you go along, so you'll never be left in the dark about how things will look after publishing them online.
In terms of customization options, Divi offers a wide range of settings that allow WordPress users to tweak everything from colors and fonts to spacing and animations – meaning there are endless possibilities when it comes to designing the perfect website. And if that wasn't enough, it even includes powerful tools such as form builders and image sliders that further enhance what you can do with your site without installing bulky page builder plugins!
With Divi's page-building power at your fingertips, you're guaranteed total control over every aspect of your WordPress website – making sure it looks just right for whatever audience it serves. Now let's explore some of the fantastic premade layouts available through Divi…
Premade Layouts With Divi
Divi WordPress page builder offers premade layouts that can help you create a stunning website with minimal effort. If you're looking to upgrade your site quickly, Divi's selection of ready-made layouts is a fantastic resource. Here are three great reasons why you should consider using these premade designs:
They save time – Instead of spending hours coding and designing your website from scratch, Divi Builder's library of premade templates will give you a head start in creating an attractive and functional site.
Ease of use – Using the drag-and-drop interface eliminates many technical obstacles for users without experience working with web design tools. You can easily customize existing designs or even build something new without worrying about complex programming languages or HTML code.
Accessibility – All Divi themes and builders come with comprehensive documentation that explains each feature in detail, making it easy for beginners and seasoned developers alike to understand how the platform works and get up to speed quickly.
These are just some of the advantages that make Premade Layouts such a powerful tool for any website powered by Divi Builder. With so many customization options available right out of the box, there's no limit to what kind of unique theme or page you can create! From here, we'll look at one final overview of the music and builder itself before diving into more details on how they work together to power your dream website.
Summary Of The Theme And Builder
Divi is a powerful theme and page builder that allows users to create beautiful, custom websites easily. Unlike the default WordPress editor, Divi offers ultimate flexibility and freedom in creating pages without coding knowledge or experience. With the Divi Builder, you have complete control over every element on your page – from fonts and colors to layout design and responsiveness – so you can craft exactly what you envision.
The Divi Builder also provides tons of premade modules for quickly piecing together layouts without starting entirely from scratch. This makes it easy for anyone to build their website using an intuitive drag-and-drop interface. Plus, with advanced features like dynamic content replacement via shortcodes and global elements, Divi ensures simple yet powerful customization options when building pages.
As we move forward into our comprehensive review of Divi's features, let us explore all this unique platform has to offer! Overall, Divi packs a lot of power into one broad theme and page builder package. It's perfect for web designers looking to take their sites to the next level while still allowing those new to website creation the tools they need to get started quickly with minimal effort required.
Comprehensive Review Of Divi
Divi is a powerful WordPress page builder and theme that allows you to create stunning web pages easily. It's the ultimate visual creator for creating beautiful designs without coding know-how or experience. With Divi, users can build custom layouts and pages using its intuitive drag-and-drop interface. The Divi Builder plugin also includes 46 premade page layouts and dozens of design elements, such as icons, buttons, images, text boxes, and more.
The Divi Theme is an advanced template engine designed to give your website a professional look while still being easy to customize. With its built-in options panel, you can quickly adjust colors, fonts, backgrounds, menus, sidebar configurations, and more directly from within the theme. This makes it simple to tailor the appearance of your site to match any brand identity or style preferences – no matter how intricate they may be!
In addition to providing all these features in a single package, Divi also offers excellent support resources, including video tutorials and helpful articles on their blog. They have everything from beginner guides to complex solutions for experienced developers working with WordPress websites. All this adds up to one comprehensive solution for building unique websites with minimal effort – so if you're looking for a user-friendly way to get started building your site, then Divi could be just what you need!
With its impressive array of tools and capabilities, Divi provides unparalleled control over every aspect of web design – making it an ideal choice for anyone looking for complete customization when developing their WordPress sites. And thanks to its compatibility with numerous plugins across different platforms, there are endless possibilities available when creating unique page layouts or implementing specific functions on your site. So whether you want total creative freedom or something quick and easy out of the box – Divi has got you covered!
Compatibility With WordPress
Having discussed the basics of Divi, it is time to look at its compatibility with WordPress. The Divi theme or the Divi Builder can be used on any standard WordPress installation and offers a great deal of flexibility for users who want complete control over their website design. It comes with all the necessary tools to easily create customized webpages in minutes using the easy-to-use drag & drop feature.
Since Divi is compatible with WordPress, it allows you to manage your website from within your WordPress dashboard without switching between applications or accessing multiple platforms. This makes setting up your site easier while giving you more control over how it looks and functions. Furthermore, since the integration is seamless, there's no need to worry about selecting a WordPress hosting provider either – managed WordPress hosting providers like WPEngine are ideal for hosting websites built with the Divi builder plugin.
Divi gives you complete freedom when customizing themes and building pages quickly and efficiently. In short, this powerful page builder tool gives you full control over designing your website and provides an excellent platform for developers looking to build sites faster than ever. With its ability to make sweeping changes in just a few clicks, Divi is one of the best options available today for quickly creating beautiful websites.
Modules And Components Of Divi
Divi is a WordPress page builder that gives users the power to create unique websites quickly and easily. The Divi theme builder allows you to construct your web pages without any coding knowledge, replacing the default WordPress interface with an intuitive drag-and-drop system. With it, you can craft unique page layouts using over 40 customizable modules, including sliders, galleries, testimonials, and more.
Using the Divi Builder, you have complete control over each element of your site's design. You can customize colors, fonts, sizes, and margins and even use custom CSS on every module within seconds. Plus, hundreds of predesigned page templates are available for you to get started right away or as inspiration for your own work. Elegant Themes offers access to its extensive library of royalty-free images, which can be used with its many customization options for greater aesthetic appeal.
With the Divi Page Builder at your fingertips, creating stunning sites has never been easier or faster. Whether you're a beginner or an experienced designer looking to make professional-grade themes from scratch – Divi theme makes it possible! Just open up the editor and start dragging elements around until they fit perfectly into place; no code is required! Take advantage of all this powerful tool has to offer, and watch as your vision comes alive before your eyes.
Design Capabilities With The Builder
The Divi Builder is a powerful visual creator that provides the tools to design your page from scratch and build it up exactly how you want. If you wish, with elements like rows, columns, modules, and sliders all being drag-and-drop customizable without needing to know much code, everyone can have control over their website look and feel. t to customize an existing page or create one from nothing entirely, the options available in the builder make it easy for anyone of any skill level to work their magic.
Customizing each element on the page can be done quickly with just a few clicks. You can select from pre-built layouts that come with Divi or use them as inspiration for creating something unique. There are also many customization options when building out individual elements, such as colors, fonts, sizes, animations, and more! The builder gives you complete control over every aspect of your website,e so even if you don't consider yourself tech-savvy – no worries! You'll still be able to craft whatever type of look you're going for with ease.
Divi builder makes designing beautiful web pages simple and quick, meaning less time spent tinkering away at coding and more time doing what matters most – running your business or blog! Its user-friendly interface allows you to quickly produce professional results while giving power back to users who wish to take total ownership of their website design. Ready? Let's get started customizing some themes!
Customization Options With Themes
Divi Builder for WordPress offers an impressive array of customization options for themes. With Divi, you can easily customize the look and feel of your WordPress website. You have complete control over how every page is displayed and how each element looks on the page. Plus, you get access to hundreds of premade layouts that make creating a professional-looking website even more accessible!
Here's what you can do with just a few clicks:
Create custom headers and footers
Select fonts and colors to match your brand
Change page widths or backgrounds
Customize font sizes and line heights
Add animation effects like parallax scrolling
These features are all at your fingertips with Divi Builder's drag-and-drop interface. It makes building beautiful websites fast and easy – no coding required! So if you're looking for ultimate control over the design elements of your WordPress site, then Divi Builder is worth considering.
The level of customization available through Divi allows users to create truly unique sites that stand out from the crowd. Whether you want to build something simple or go full-on creative, Divi gives you everything you need to craft the perfect web experience explicitly tailored to your needs. From changing layouts and adding content blocks to setting up menus and widgets, Divi will help quickly and easily transform your vision for your website into reality!
Ease Of Use And Integration
Divi WordPress page builder is an absolute powerhouse regarding ease of use and integration with your website. It's no secret that the Divi Builder makes creating posts or pages a breeze, but its simplicity sets it apart. With just a few clicks, you can quickly get up and running with complex layouts, content modules, and elements with little effort. Plus, Divi gives you the freedom to customize every aspect of each piece too! How Divi integrates with your WordPress editor also allows for incredibly efficient workflow management. For example, if you want to add images from within the media library into your post or page layout, then all you need do is drag and drop them into place – simple yet effective. In addition, Elementor also supports custom HTML code so developers can easily edit their web pages without switching between editors.
All these features make Divi an excellent choice for those looking for an easy-to-use theme creator that offers plenty of customization options while maintaining complete control over their websites. With the ability to create stunning designs quickly and with minimal setup time needed, this WordPress page builder stands out among its competitors. Now let's look at the support available from developers should any issues arise while using Divi.
Support From Developers
Divi Builder is backed by an extensive support network of developers who are experts in the field of WordPress. They provide help with any questions you may have regarding the Divi Builder and its features, as well as tutorials to get you started on your journey. Moreover, their customer service team is available 24/7 via email or live chat when you can't figure out how to use a particular feature. It's reassuring knowing that there's someone to guide and assist you along the way!
The advanced WordPress page builder is also available as a standalone plugin that allows users to create pages without using any other themes or plugins – making it incredibly versatile and easy to use. With this option, users don't need to worry about compatibility issues encountered when using multiple plugins together; they install the plugin and hit the ground running. As if that weren't enough, Divi Builder comes equipped with a library of premade layouts and modules so users can customize their website even further. This means that all the hard work has been done for them – no time spent manually coding or piecing things together!
In addition, Divi takes WordPress website building into account by allowing developers complete control over everything: fonts, colors, spacing between elements, etc. – giving web admins complete freedom to design however they want. In short, Divi makes creating beautiful websites simple and intuitive; it puts all the power of professional web development into your hands! So why not give it a try? Use Divi Builder today to create stunning websites quickly and effortlessly!
Conclusion
In conclusion, Divi Builder is a compelling theme and visual builder that has revolutionized how WordPress websites are created. It's ideal for users who don't have a lot of coding experience but still want to create stunning designs easily. The customization options allow you to tailor your site exactly how you'd like it, while the integration ensures that all aspects work together seamlessly. Plus, their development team offers helpful support when needed.
Overall, I highly recommend Divi Builder to anyone looking for a great theme and page builder combination for their WordPress website. Whether you're just starting out or already have some web design experience, this tool gives you everything you need to create unique pages quickly and easily – no matter what type of site you're making. So if you're in the market for a top-notch page builder, look no further than Divi!