Are you looking to build a stunning WordPress website in 2023? Then you've come to the right place! Page builders are the most popular way to create unique websites without learning code or spending a fortune on a web developer. In this article, I'll look at the best page builders available for WordPress in 2023 so that you can make an informed decision when building your dream site.
With so many options, knowing which page builder is right for you can be challenging. That's why I've done all the research for you and have narrowed down the choices to just five of the best. These page builders offer incredible features and will help transform your WordPress website into something remarkable. So let's dive in and look at what each one has to offer!
In this article, I'll review five top page builders for WordPress: Beaver Builder, Elementor Pro, Divi Builder, Visual Composer Website Builder, and WPBakery Page Builder (formerly Visual Composer). We'll explore each one in-depth and discuss their features, pricing plans, and pros & cons so that by the end of this article, you'll know which page builder is right for your needs in 2023. Let's get started!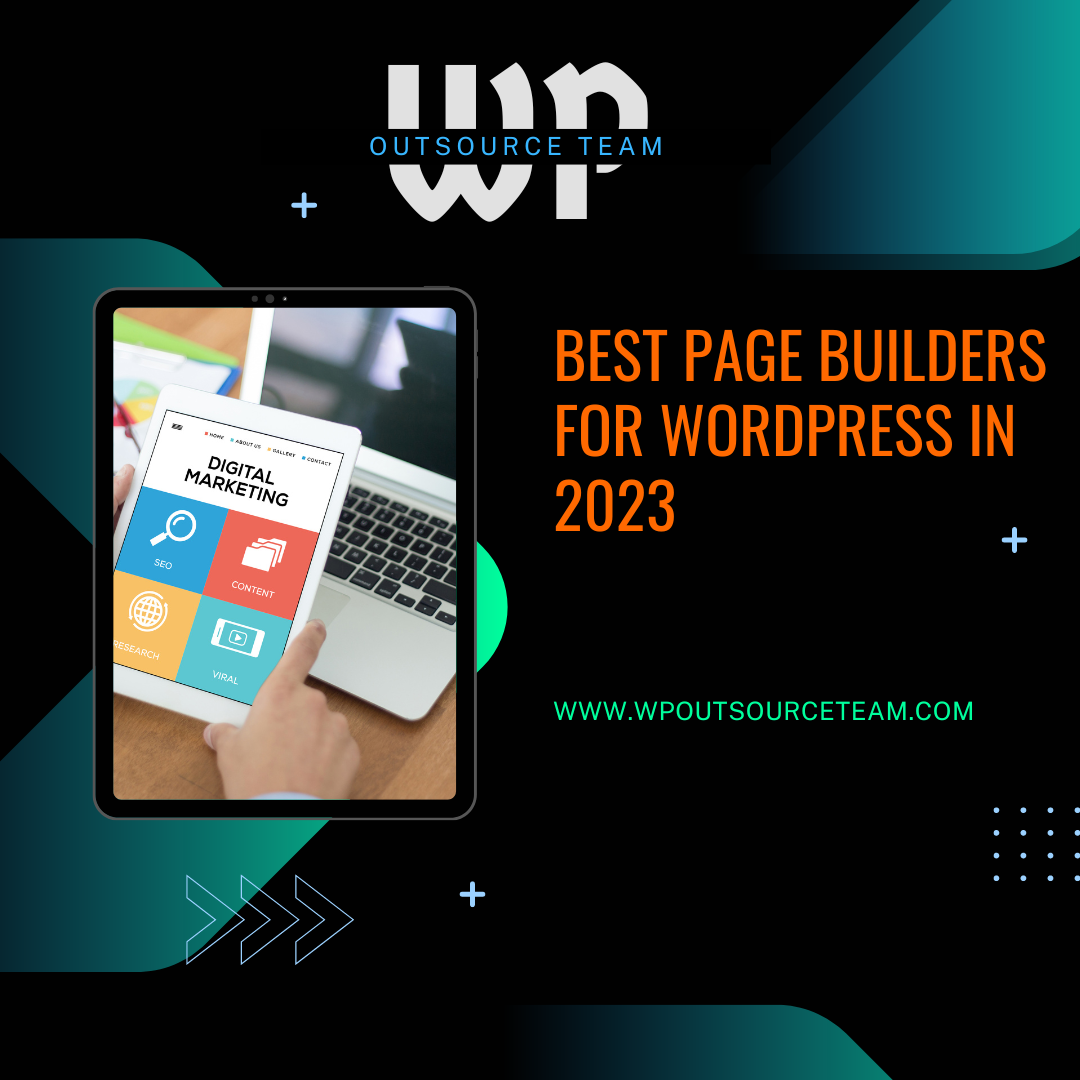 Overview Of Page Builders For WordPress
Page builders are a great way to customize the look and feel of your WordPress site. They provide users with an easy-to-use drag-and-drop interface, allowing them to quickly create page templates, add content, and rearrange elements on their site. Many page builder plugins are available for WordPress, so choosing the best one for your needs can be challenging.
The best WordPress page builder will depend on what you want to accomplish. Some page builders offer a more intuitive user experience than others, while some offer more advanced features like custom coding options. It's important to consider how much time and effort you're willing to put into learning how to use a page builder before choosing one.
Another thing to remember is that some page builders may be incompatible with specific themes or plugins. If you're using a theme or plugin you don't want to change, make sure the page builder you choose is compatible with it before moving forward. With these tips in mind, let's look at the advantages and disadvantages of using a page builder for creating your WordPress site.
Advantages And Disadvantages Of Using A Page Builder
Using a page builder for your WordPress website can have many advantages and disadvantages. When evaluating which one to use, it is essential to consider all the features each offers and how they can benefit your site. Some of the more popular page builders include Beaver Builder, SiteOrigin Page Builder, WP Page Builder, and Page Builder Plugin. Each has its own set of tools and capabilities that make them unique.
The main advantage of using a page builder is the ability to quickly create pages with drag-and-drop elements that are easy to customize. This makes it much simpler for users with no coding skills or knowledge of HTML to create webpages with powerful features quickly. Additionally, many page builders offer additional features such as contact forms, galleries, sliders, and more that can help enhance the look and usability of your website.
On the other hand, some drawbacks of using a page builder are that they may require an upfront fee or subscription cost if you want access to all the features they offer. Furthermore, while some page builders may be user-friendly for beginners, they might not be as customizable or advanced as those used by experienced developers. Additionally, depending on which plugin you use, you may need to purchase additional plugins or modules to get all the functionality you need from your website.
These are just some of the advantages and disadvantages you should consider when deciding which WordPress page builder is right for you. With so many options out there, it can be challenging to know what to look for in a page builder – but with careful research and consideration of your needs, you should be able to find a solution that meets your requirements perfectly.
What To Look For In A Page Builder Editor
When looking for a page builder for WordPress in 2023, there are several features to consider. Here is a quick list of the most critical factors to look for:
Ease of Use: Make sure the page builder plugin has an intuitive user interface that allows you to easily create beautiful and functional pages without learning complicated coding or design skills.
Design Options: A page builder should provide plenty of design options so you can customize your website and give it a unique look. Look for themes and page builders that offer a wide selection of templates, fonts, colors, and other customization options.
Support Resources: Choose a WordPress Page Builder Plugin that offers comprehensive support resources, including step-by-step tutorials, online help documents, and customer service. This will ensure your experience with the plugin is as seamless as possible.
Cost: Depending on your budget, there are free and paid best Page Builders available in 2023. Consider which feature sets are offered with each option before making your decision.
Transitioning into the next section about popular free page builders, keep in mind that cost shouldn't be the only factor considered when selecting a page builder – make sure it meets all of your design needs too! It's also essential to ensure the page builder is regularly updated with bug fixes and new features so you can take advantage of the latest technologies when creating your website. With these factors in mind, you should be well on your way to finding the perfect page builder for WordPress in 2023!
List Of Popular Free Page Builders
Now that you know what to look for in a page builder, let's explore some of the popular free page builders available for WordPress.|
| WordPress Theme | Landing Page | Free Version |
| --- | --- | --- |
| Elementor | Yes | Yes |
| Beaver Builder | Yes | Yes |
| Brizy | Yes | Yes |
| Gutenberg Blocks | No (Plugin) | Yes (Expanded) |
Free WordPress page builders have come a long way from their initial offerings. Nowadays, it's possible to create an entire website with just a few clicks; no coding is required. Elementor, Beaver Builder, and Brizy are three of WordPress's most well-known free page builders. All three offer various features, including responsive design options and custom page layouts. You can also use them to create stunning landing pages that capture your audience's attention. Each page builder has its version of a free WordPress theme, so you can quickly get started.
The recently released Gutenberg Blocks is another excellent option for creating pages without coding knowledge. It works as a plugin within the WordPress dashboard and provides blocks you can customize and rearrange according to your needs. The expanded version offers additional features, such as custom templates and advanced styling options, but these must be purchased separately.
Now onto the next section about the best paid WordPress page builders! No matter which one you choose, all of these free WordPress page builders provide an easy-to-use interface with powerful design capabilities at no cost. With just a few clicks, you can produce beautiful web pages that draw in your visitors and keep them engaged on your site.
Find The Best Paid Web WordPress Page Builders
When building a WordPress website, you want to find the best tools available. These powerful tools come with many features and benefits that allow you to create beautiful pages and designs for your WordPress site. That's why so many people go for the best-paid WordPress page builders.
The best-paid WordPress page builders include Elementor, Beaver Builder, Divi Builder, Visual Composer, and Thrive Architect. Each builder includes drag-and-drop design elements and custom code options to help you create a unique new page or edit an existing one with ease. They also have features like prebuilt templates, content blocks, and widgets to make designing your WordPress website even more accessible.
These builders are great options if you're looking for more advanced features than what the accessible version of a page builder can provide. They provide more customization options and offer access to technical support teams in case you need help troubleshooting any issues along the way. With these tools in your arsenal, there's no limit to what you can do with your WordPress website!
That said, there are some drawbacks of using a WordPress page builder that should be considered before making any decisions.
Drawbacks Of Using A WordPress Page Builder
When it comes to building a website, WordPress page builders are instrumental. They offer a user-friendly experience, allowing you to customize your site with ease and save time in the process. However, there can be drawbacks to using a WordPress page builder. Here are some of the potential downsides:
Limitations on Design:
Customization Options: Most WordPress page builders have limited customization options, which can alter your site's design.
Layout Restrictions: WordPress page builders often have restrictions on how you can layout your content, making it challenging to create the exact look you want.
Templates: While many WordPress page builders offer templates, they may not always fit your needs.
Financial Cost:
Subscription Fees: Many WordPress page builders require you to pay a subscription fee to use them, which can add up over time.
Additional Plugins/Themes: To get the most out of your WordPress page builder, you may need to purchase other plugins or themes, which can be expensive.
Potential Security Issues: Some WordPress page builders may introduce security vulnerabilities into your website due to unsecured code or outdated plugins and themes. It is essential to ensure that any WordPress page builder you use is secure and up-to-date to protect your website from potential attacks.
Overall, while there are some potential drawbacks to using a WordPress page builder, they remain a handy tool for creating a website quickly and easily. When used correctly and securely, they can help you make an attractive site without having to learn complex coding languages or hire an expensive web developer. As such, understanding the potential drawbacks should not dissuade you from taking advantage of what these tools offer when it comes time to build your website. That said, troubleshooting common issues with wordpress page builders is equally essential for ensuring the smooth operation of your site in the long run.
Troubleshooting Common Issues With WordPress Page Builders
Troubleshooting common issues with WordPress page builders can be a hassle. However, there are several steps you can take to get back on track quickly. First, ensure your page builder is up to date and that any plugins or themes you're using are compatible with the version of the page builder you're running. If you're having trouble uploading images or files, try clearing your browser cache and cookies. It could also be helpful to deactivate any plugins that may conflict with the page builder.
If none of these steps have worked, contact the support team for your WordPress page builder. They should be able to provide you with further assistance in troubleshooting any issues. Additionally, check out their online help section or user forums, as they might have helpful tips to help solve your problem.
In addition to troubleshooting technical issues, ensuring your content looks great on every device is essential. Please ensure all images and text are sized appropriately for different screen sizes, and test it on various browsers before publishing your page. This way, you confirm that visitors will have a great experience no matter what device they use. Security considerations when using a wordpress page builder is the next topic we'll discuss in greater detail.
Make Security Considerations When Using A WordPress Page Builder
Security should be a top priority when choosing a page builder for WordPress. It's essential to ensure the page builder is secure and reliable, as any vulnerabilities could lead to malicious attacks against your website. Fortunately, there are several steps you can take to ensure your site is safe when using a WordPress page builder.
First, check that the page builder uses secure protocols like SSL/TLS and HTTPS. This will help protect sensitive information from being intercepted by cybercriminals. Additionally, look for page builders that offer two-factor authentication for additional security. This will require users to enter a different code or answer a security question when logging in.
Finally, ensuring the page builder is regularly updated with new features and bug fixes is essential. Outdated plugins are more vulnerable to security breaches, so checking for updates frequently is vital to keeping your site safe from malicious attacks. With these considerations in mind, you can be confident that your site is secure using a WordPress page builder. Now let's look at how to ensure compatibility with your theme or plugins.
How To Ensure Compatibility With Your Theme Or Plugins
When using a page builder for your WordPress website, it's essential to ensure compatibility with your themes and plugins. This means that the page builder should work with any theme or plugin you have installed without any conflicts or errors. To ensure this, check the compatibility section of the page builder's documentation to see if your theme or plugin is supported. If it isn't, contact the developer and ask if they can help it.
Another way to ensure compatibility is to test the page builder on a staging environment before deploying it to your live site. A staging environment is a copy of your production website where you can safely experiment with new features and design elements without affecting your live site's visitors. You can use this testing environment to ensure everything works properly before going live.
Finally, if you ever encounter any issues while using a page builder, be sure to reach out to their customer service team as soon as possible. The sooner you identify and resolve any potential compatibility issues, the smoother the implementation process will be – both for yourself and your visitors. With these steps in mind, you'll have no problems ensuring everything works together perfectly.
The Future Of WordPress Page Builders For Website Developers and Non-Developers
As we look to the future of WordPress page builders, it's clear that there is much potential for further development and innovation. With the advent of more powerful tools like Elementor and Beaver Builder, combined with advancements in technology, WordPress page builders can provide users with even greater control over their websites.
In 2023, we can expect to see a variety of new features and capabilities from the top page builder products. For example, some may provide users with an even more intuitive drag-and-drop experience and enhanced customization options. Additionally, many page builders are likely to introduce integrations with popular third-party services such as Google Analytics or MailChimp.
| Feature | Description |
| --- | --- |
| Drag-and-Drop Experience | Easier website editing through a user-friendly interface |
| Customization Options | Control over colors, fonts, logos, etc. |
| Third-Party Integrations | Connecting your site to MailChimp or Google Analytics |
These features will make creating and managing a website even easier than before, allowing developers and non-developers alike to develop unique websites quickly and easily. The possibilities are limitless when considering what these new WordPress page builder products can do in 2023! With their cutting-edge technology and advanced capabilities, it's sure to be an exciting time for WordPress users everywhere.
Conclusion – Key Take Aways On Best WordPress Page Builder Plugins
As a WordPress page builder expert, I've seen the landscape of page builders change a lot over the years. In 2021, many great options will be available for free and paid page builders. They offer a range of features and customization options that make it easy to create beautiful pages with minimal effort.
When choosing a page builder, it's essential to consider factors such as compatibility with themes and plugins, security considerations, and troubleshooting capabilities. The best page builders also have good customer support in case you need help getting started or fixing any issues you may encounter.
Overall, WordPress page builders are an excellent way to quickly and easily build custom pages without learning to code. With the right choice of plugin, you can create stunning websites faster than ever. And with new advancements in technology every year, it looks like 2023 will be an even better year for WordPress page builders!