Are you looking to create beautiful, high-converting WordPress landing pages in 2023? If so, then look no further! We've done the hard work for you and rounded up the top seven WordPress page builders to help you get your website off the ground. Whether you're a seasoned pro or just starting with web development, these tools will give you complete control over how your pages look and feel.
Every single one of these page builders offers something unique, giving users full customization capabilities – from drag-and-drop editing to custom code integration. With all these options at your fingertips, knowing which one is right for you can be challenging. Don't worry – we'll break down each builder by features, pricing structure, and user experience so that you can decide what works best for your business needs.
At the end of this article, you should have all the information necessary to decide which WordPress landing page builder is perfect for creating the website of your dreams in 2023. So keep reading to find out more!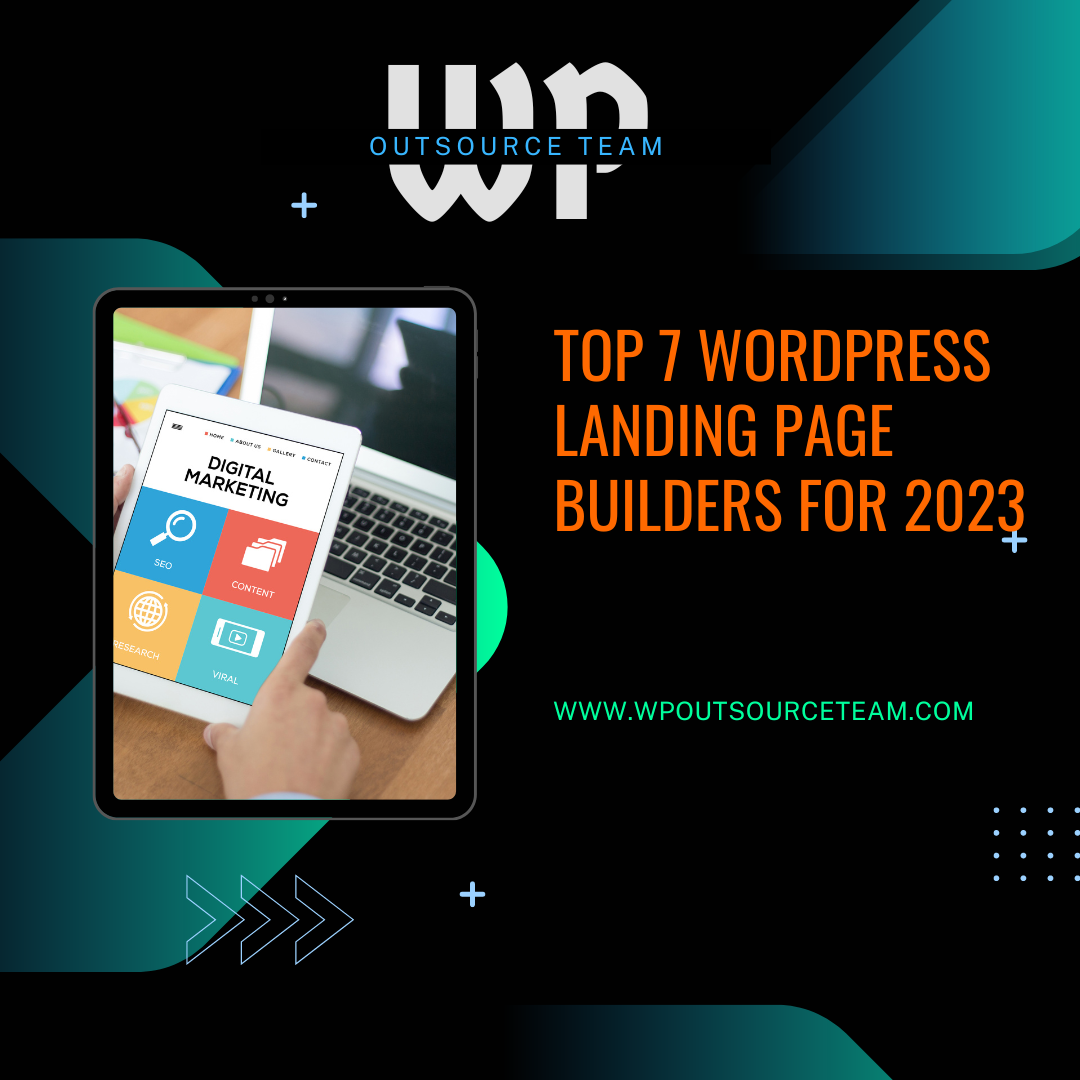 Table of Contents
Divi Builder
Divi Builder is one of the top WordPress Landing Page Builders for 2023. It offers a comprehensive and intuitive builder interface, allowing users to customize their pages with powerful visual editing tools easily. The drag-and-drop page builder includes an expansive library of customizable modules that can be used to create unique layouts for any website. Its "Builder Widget" feature makes it easy to add custom code snippets or embed third-party content on your pages. Additionally, you can save time using premade designs from the extensive template library. For those who want more control over their site design, it has advanced options like CSS styling and custom JavaScript functions to give you even greater flexibility. It offers users complete freedom when creating landing pages – making it an excellent choice for anyone looking for a reliable and user-friendly page-building experience.
Whether you're new to web development or an experienced designer, This provides everything needed to build stunning websites quickly and effectively. With so many features at your fingertips, there's no doubt why Divi Builder stands out among the other landing page WordPress builders available today – especially when compared to SiteOrigin Page Builder or Page Builder by SiteOrigin. Now as we move onto Oxygen Builder.
Oxygen Builder
The Oxygen Builder is a popular WordPress builder plugin. It's an intuitive and powerful drag-and-drop page-building interface that gives users complete control over their website design. Its simple interface makes creating beautiful pages more accessible than ever before.
Another great feature of the Oxygen Builder is its tutorial videos to help guide you through the setup process. This can be especially helpful for those just starting with WordPress builders or wanting to get up and running quickly without any prior experience. The tutorials also provide tips on using the best features to maximize your site's potential.
The Oxygen Builder has been praised by many users for its versatility and ease of use, making it one of the top choices among landing page WordPress builders for 2023. From beginners to experienced professionals, anyone looking for a comprehensive yet user-friendly tool will find this platform perfect for their needs. With many customization options available, you'll have all the tools necessary to create unique and stunning web pages that stand out from the crowd! Onwards and upwards, let's look at what Bricks Builder can offer us now…
Bricks Builder
Moving right along from Oxygen Builder, we have Bricks Builder – an exciting and intuitive landing page WordPress builder. It's a drag-and-drop page editor that enables users to customize their websites efficiently and precisely. Its simple interface and powerful features offer the perfect balance between functionality and flexibility.
Bricks Builder's ability to create complex pages quickly without compromising design quality or performance makes it stand out. The user can easily lay out content sections using blocks that are premade elements like columns, images, text boxes, etc., making the process very efficient. Additionally, Bricks Builder has a library of ready-made templates and a wide range of plugins for further customization options. This allows you to get your site up and running quickly!
The table below outlines some key features of this famous WordPress builder:
| Feature | Description |
| --- | --- |
| Drag & Drop Page Layout | Allows easy rearrangement of sections by simply dragging them into place |
| Responsive Design | Guarantees optimized display across all devices, including mobile phones and tablets |
| Customizable Templates & Plugins | A vast selection of premade designs and third-party integrations are available for added control over styling options such as fonts and colors. |
| SEO Optimization Support | Automatically generates meta tags for improved search engine rankings so your pages aren't left behind in today's competitive online marketplaces. |
Overall, Bricks Builder is an excellent choice if you're looking for a comprehensive yet straightforward solution when building your page layouts. With its various tools designed specifically for WordPress landing pages, you'll be able to craft engaging websites that look great regardless of device size or platform. Next up is Elementor Builder – another popular option among those seeking control over their wordpress sites without sacrificing usability or speed.
Elementor Builder
Elementor Builder is a popular WordPress page builder plugin that gives users complete control over their website's design. It comes with an intuitive and user-friendly editor, making it easy to customize pages without needing any coding knowledge. With the Elementor Page Builder Editor, users can access advanced tools like drag-and-drop elements, eye-catching animations, preset layouts, and more. Plus, they can easily create custom page designs via the 'Page Builder Tab.'
Plenty of helpful tutorials are available online for those new to using this plugin or who want to learn how to use all its features efficiently. From beginner guides on setting up your site with Elementor to detailed tutorials on creating custom page designs, you'll find something for every skill level. This makes it great for beginners and experienced web designers looking to save time while producing high-quality results.
With Elementor Builder at your disposal, you have everything you need to create beautiful landing pages in no time! Its powerful yet simple tools make it one of the most versatile WordPress page builders – perfect for crafting engaging content that gets visitors clicking through your site. Transitioning between sections about Beaver Builder.
Beaver Builder
The previous section may have discussed Elementor Builder and its features, but another landing page WordPress builder has splashed the market. Beaver Builder is an innovative page editor plugin with excellent design capabilities, making it one of the top 7 WordPress Landing Page Builders for 2023.
| Feature | Beaver Builder |
| --- | --- |
| Easy to use | Intuitive drag-and-drop layout building widget |
| Plugin Widgets | Add any content from post or page templates |
| Layout Building Widget | Easily rearrange elements without coding knowledge |
| Content Editing | Edit content on live pages with real-time preview |
Beaver Builder stands out among other WP page builders because users can build intricate layouts by dragging and dropping components like columns, rows, sliders, text blocks, images, and more into their website. With this flexibility comes power – you can create almost any kind of web page imaginable. Plus, all changes are visible in real time, so you know exactly what your site will look like before publishing! It also offers pre-built template designs, which make creating sites faster than ever. Finally, since plugins power it, you can easily add widgets and customize them to fit your needs. All these features make Beaver Builder one of the best tools available for creating stunning websites quickly and efficiently – no coding required!
Zion Builder
Zion Builder is a powerful page builder plugin for WordPress that allows users to create websites using a drag-and-drop interface. It's one of the most popular page builders on the market and has become increasingly popular in recent years. With Zion Builder, you can create beautiful landing pages with ease. The free version of the plugin includes features such as responsive design, customizable content blocks, and an intuitive user interface. For those looking for more advanced options, there's also a Pro version with additional features like custom CSS support and WooCommerce integration. One great thing about Zion Builder is its flexibility – it works with any theme or template you choose. Plus, it comes with dozens of templates and pre-built layouts to get you started quickly.
Regarding usability, Zion Builder stands out from other page builders thanks to its intuitive UI and fast loading times. It makes creating beautiful landing pages easy, even for beginners who don't have coding experience. Additionally, because it's built on React technology, it offers lightning-fast performance across all devices. If you're looking for a versatile page-building tool to help you create stunning landing pages efficiently, Zion Builder should be at the top of your list! To transition into the subsequent section – Breakdance Builder combines modern convenience tools with traditional website development principles to provide users with access to professional-grade web development capabilities without sacrificing speed or efficiency.
Breakdance Builder
Breakdance Builder is a powerful WordPress page builder plugin that allows users to create their custom pages and posts without needing coding knowledge. Its intuitive, drag-and-drop interface makes it easy to customize your website quickly and efficiently. The best part? Breakdance Builder is free!
| Feature | Description |
| --- | --- |
| Page Builder Plugins | Allows users to create customized pages using pre-existing templates or from scratch. |
| Drag & Drop Interface | The intuitive design allows for quick customization of webpages without requiring code writing skills. |
| Plugin is Free | No need to purchase additional licenses or plugins; download and start building your site. |
Breakdance Builder has all the features you need to quickly create stunning websites on your WordPress site. From its simple drag & drop interface, customizable themes, and widgets to its live preview feature – everything you need can be found within this amazing page builder plugin. With Breakdance Builder, you have complete control over how your website looks and feels. Plus, if you're ever stuck while working on a project, there's an active community forum where you can get help from other like-minded people familiar with the tool. So go ahead and try it today – you won't regret it!
Conclusion – Key Take Aways On Best WordPress Landing Page Plugin
In conclusion, the seven landing page WordPress builder mentioned above are some of the best options for 2023. With Divi Builder and Oxygen Builder leading the way in features, performance, and overall user experience, these two tools stand out from the crowd as excellent choices for creating a website that will look professional and easy to manage. Elementor Builder is another favorite among users due to its drag-and-drop capabilities and flexibility when it comes to customization. Bricks Builder also offers plenty of design possibilities with its library of blocks. Beaver Builder remains one of the most popular solutions on the market, while Zion Builder has become increasingly influential. Finally, Breakdance Builder rounds up this list with its intuitive yet powerful interface and ever-growing feature set.
With all these great landing pages WordPress builders available in 2023, there isn't any excuse not to get started immediately! No matter which builder you choose for your project, rest assured that any of them can help create an excellent website in no time! All have unique advantages depending on each individual's needs, so try out a few different ones before deciding on one that works best for you. Don't forget to read reviews and check out feature lists too!